Microsoft Excel is one of the most commonly used applications in the world of computing, but as you might already know, it isn't free. Excel is part of the Microsoft Office bundle of programs which while it isn't that expensive to purchase, it's still an unnecessary cost for many of today's fledgling businesses.
When it boils down to it, Microsoft Excel is simply a spreadsheet program, of which there are many other alternatives, and many of these alternatives are free!
But just how good are these alternatives to Excel? And which ones are the best? Here's a roundup of what we consider to be the four absolute best free alternatives to Microsoft Excel.
Related: Looking for the best alternatives to PowerPoint? Our recent article gives a breakdown
Chances are you already use a lot of Google products on a daily basis (e.g. Gmail, Google+ etc) and therefore, you likely already have a Google account. If this is the case, you'll have access to the Google Docs Spreadsheet application without any extra effort at all.
Essentially, Google Docs Spreadsheet is Google's own version of an Excel-like spreadsheet application; the only difference is that it's available for free, and it's also available without having to download anything to your desktop.
Google Docs Spreadsheet looks pretty similar to Excel but as you'll notice, it actually operates inside your web browser. It has much of the same functionality as Excel including a range of charts and the ability to create formulas, so it's a pretty good alternative if you're looking to save that bit of extra money on previous Microsoft Excel expenses.
What's more, you can actually use Google Docs anywhere you are, so long as you have an internet connection. This makes working remotely on your spreadsheets easier than ever, as you can be sure that your files are backed up online automatically too.
OpenOffice is a solution that is being utilized by more and more businesses these days. It's yet another extremely feature-rich and completely free alternative to Microsoft Excel.
Unlike Google Docs Spreadsheet, OpenOffice is a downloadable program and operates locally (much like Excel). It works on Windows, Mac OSX and Linux, so it doesn't matter what operating system you're using, OpenOffice is pretty much guaranteed to work perfectly.
In terms of functionality, OpenOffice is very similar to Microsoft Excel. It looks very similar and has charts, macros and most of the other features you might be familiar with if you've previously used Microsoft Excel.
One of the benefits of OpenOffice over Google Docs Spreadsheet is that once downloaded, you won't need access to the internet in order to use the program. It should also be noted that OpenOffice allows you to open, edit and create Excel worksheets, so it's perfectly easy to make the switch from Excel to OpenOffice without much hassle.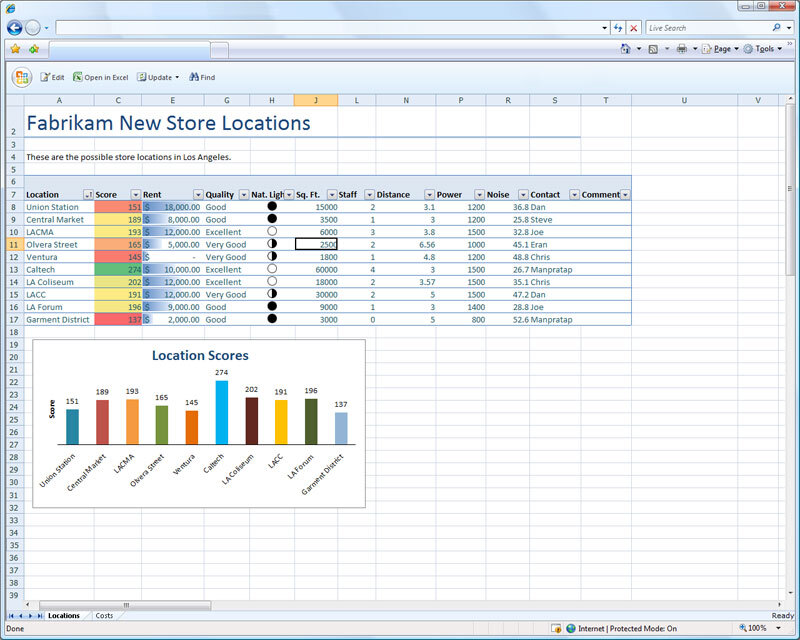 Strangely, one of the best free alternatives to Microsoft Excel is actually Excel itself – let me explain.
Basically, in order to compete with Google's free online services in the form of their Google Docs Apps, Microsoft launched a web version of their most popular Office applications including Excel. Much like Google Docs Spreadsheet, Excel is available free of charge in the form of the web app, you just need a Microsoft account to actually use it.
It should be noted that this isn't the full version of Excel and therefore, there are some features that aren't available. For example, you won't be able to edit sparklines and VBA code also isn't available. However, the Excel web app does offer most of the functionality that most small business owners will need from a Spreadsheet application, including macros and so forth.
The Excel Web App allows you to open standard .xlsx and .xlsm file types so once again, making the switch is simple and straightforward. Like Google Docs, you will need access to the internet in order to use the application though.
Lastly, we have Zoho Sheet. This is another cloud based application (much like Google Docs and the Excel Web App) so once again, you need to keep in mind that you'll need an internet connection in order to use it.
Zoho offers a lot of cloud-based web apps, many of which aren't free but luckily for us, Zoho Sheet is. All you need to do is create a free account with Zoho and then sign in. At this stage, simply head to "Productivity" on the menu and select the "Sheet" app from the list.
Zoho Sheet looks very similar to Microsoft Excel and it allows you to work with local files on your computer or Google Docs files if you prefer. You can of course create files from scratch in the Zoho Sheet app.
For most small business owners, this is yet another great alternative as it offers most of the functionality that you'll be familiar with from Excel.
Conclusion
A few years ago, there were virtually no good alternatives to Microsoft Excel but these days, things are entirely different. All of the alternatives mentioned in this list offer just about all the functionality that SME's (subject matter experts) are likely to need from their spreadsheet application.
Sure, they might not offer absolutely everything that Excel offers, but they come pretty damn close and to be honest, the difference isn't worth paying for unless you use Excel's more in-depth functions on a regular basis.