Sabrina Parsons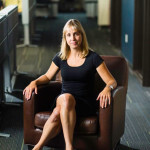 A lot of times people want to ask me about crowd funding. What is it? Is it legal?
---
Budgets are an important tool for non-profits, but the traditional way of approaching them is cumbersome and not very useful. Here are three good reasons to think about changing your non-profit budget process.
---
If you're looking to start a new small business, there are a lot of factors to consider. But boil it down, and you're left with just these ten things to focus on.
---
Last month, an internal HR Yahoo! email from the head of HR about Yahoo's work at home policies and changes to that policy was leaked. Apparently Marissa Meyer is trying to whip the company back into shape and wants to reign in employees who have flexible working arrangements and work from home. Here is a [...]
---
This post was previously published on Forbes.com. As entrepreneurs, we know that running a business brings a lot of headaches and worries along with the more positive experiences of leadership. Every day seems to be filled with decisions that affect your success and the success of your employees. Should you buy that new truck? Should [...]
---
These days more than ever, as a business owner and entrepreneur, you need to innovate or die. This mantra is most true for any business in the technology sector. We constantly need to move forward, create new things, better and faster. The pressure that a small business owner has to leverage innovation into growth is only emphasized by the [...]
---
Time and time again I am surprised when people espouse the common myth that you only need to write a business plan if you are seeking funding for your business.  And then I start lecturing them. Yes, every entrepreneur needs to start with a business plan, and I mean EVERY entrepreneur, not just those seeking [...]
---
Tim was recently invited to be the keynote speaker at the George Mason Entrepreneurship Research Conference. Not only is it an honor for Tim, but also for Palo Alto Software. And now for the cherry on top, a post from Campus Entrepreneurship: Just listened to Tim Berry give the keynote address during lunch. Tim was [...]
---
About a month ago I reserved a condo in New York for a business trip I have coming up at the end of May.  I run the Princeton Entrepreneurs' Network and we run an annual conference every year in late May, and this year I am the one in charge, so I have to be [...]
---
Barry Moltz, a popular blogger and author, wrote a very interesting post on what Obama should do to stimulate the American economy.  Here is what he suggests: If we took the $750B and divided it among the approximately $150M working Americans, each of us would get $5,000 to spend in this economy. The government would [...]
---