infographic
Congrats to Michigan for its #1 showing here among grad schools for entrepreneurship.
---
The National Retail Federation just released its annual holiday spending forecast, and it's a bit of a mixed bag. The bad news is that the consumers surveyed by the NRF expect to spend about 2 percent ($14) less this year on holiday gifts, greeting cards, decorations, flowers, and food than they did in 2012. The [...]
---
---
Don't get so wrapped up in work that you forget to stay up with the current events of the business world! Amid all of the chaos, grab a cup of Joe and take a short reading break.
---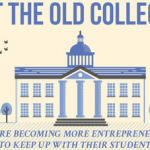 Interesting stats, with thanks to Diana Ransom writing for Young Entrepreneur:  165 million entrepreneurs age 18-25, according to GEM report. There's a higher percentage in the U.S. than any other country. About three-fourths of millennials tell pollsters they want to start a business. The main reason they don't (52%) is they don't have the resources. [...]
---
---
---
It's not a secret that women are finally catching up to their male counterparts in the business world. Recently, stories about (and from) high-powered business women Sheryl Sandberg, Annemarie Slaughter, and Marissa Meyer have once again brought working women into the public eye, but are they really representing a national trend? According to this infographic, [...]
---
If you travel a lot for your business, you probably rely on your mobile devices to stay connected and productive. How do you compare to the stats in the infographic below? Business Traveler's Mobile Dependence Infographic created by PC Housing
---
This infographic from the Kauffman Foundation presents an interesting look at the state of entrepreneurial activity in the United States. The good news is that more new businesses were created in 2011 than in the several years leading up to the recession that began in late 2007. The bad news is that new business activity [...]
---